2nd North Devon Art Show 2003

Entry for Exhibition

Peter Bright BA(hons)

Graduated from Exeter College of Art & Design (1979)

Currently studying for an MA in Painting at Wolverhampton University (2002-03)
The Radiographer 430mm x 700mm

 Vinyl, acrylic and oil paint on corrugated card. 

(Woolacombe July 2002)

This is the first in a series of 'drawings' I made using coloured transparent tapes.  A good friend of mine was working at the North Devon Hospital, as a junior doctor. She was the catalyst for these drawings. The hierarchy of the hospital system fascinated me. I would really like to see one or all of this series exhibited in a hospital or surgery.
The Consultant 540mm x 790mm

 Vinyl, acrylic and oil paint on corrugated card. (Woolacombe July 2002)

I have included part of my MA Proposal below. I think it might explain where my experiments with vinyl tape are leading me.

There are eight images in the 'Hospital' series.

The Quay ( 3 canvases size 450mm x 300mm)
Acrylic and oil paint on canvas. (Woolacombe/Bromsgrove July 2002)
I made these simple paintings to explore organic shapes and colours. I also wanted to see if I could explode/echo/repeat motifs across several paintings, to create a logical transition with a suggestion of language and rhythm. The inspiration for these paintings is the quay/harbour area of Ilfracombe in North Devon. I am fascinated by the way the tides move and change the landscape, a constant moving swell, every moment a different image. The colours and light of Devon have changed my approach towards painting; the dullness of the industrial Midlands has now been replaced with the clean, pure colours of my Woolacombe home.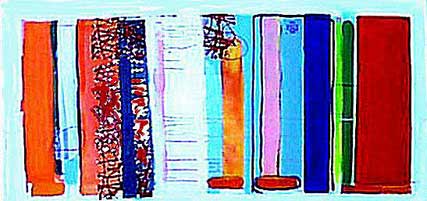 Flags from Undiscovered Nations (1000mm x 500mm)
 Vinyl, acrylic and oil paint on canvas. (Woolacombe/Bromsgrove November 2002)
I have been experimenting with using gestural marks from the Abstract Expressionist movement, scanning them into a computer and then cutting them out in vinyl. These formal gestures then become a parody, reduced to decorative patterns. I like the idea of inventing flags and banners for imaginary countries, the flags we adopt always seem to have straight lines and blocks of colour......it might be more interesting to have a more random approach to our national identity.
(The quality of the photograph above is very poor)
---

MA Proposal Draft One by P. Bright
Organic & Synthetic
October 2002

Recently I have been creating images with PVC packaging tape. There are several colours of tape available, ranging from brown to vivid reds and blues. These tapes are transparent and can be used in layers like watercolour paint or lithographic printing. Using tape is a very quick and physical way to create images. The plasticness of the material has a unique quality and is ideal for creating images that are bold, strong, colourful and contemporary. Each layer adds depth and intensity to the colour underneath and like lithography new colours are created as each transparent layer is added.